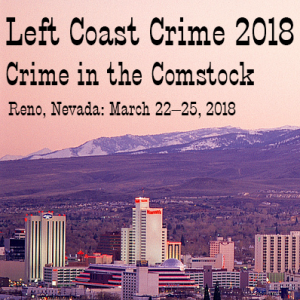 Next week I'm packing my books and heading to Reno for my debut at a fan convention: Left Coast Crime. I've wanted to go for many years, but this is the first time I could get time off from teaching (there are advantages to joining the dark side of administration).
I'm told the event attracts equal numbers of writers and readers, which will be a refreshing change. Most of you remain anonymous to me, mysteries in and of yourselves. At times writing fiction feels like detection, looking for clues to how you found my work and what satisfies you.
Some writers I've heard about survey their readers or study the comments on their Amazon reviews, but the academic in me demands a larger sample size before drawing any conclusions. Still, analyzing website traffic or counting my friends on Facebook feels obsessive and self absorbed. I'd rather meet you all in person.
I'll be appearing on three panels: speed dating for authors, where 140 readers get to interview me (and dozens of other writers) for 2 minutes apiece (note to self-prepare your elevator speech), as a panelist on political thrillers, and as moderator for a forum on suburban and rural settings. This last one has me furiously studying work by the participants, who include James Hayman and Heather Young (author of The Lost Girls).
Also, I'll be staffing the author table for Mystery Writers of America at 2 p.m. on Saturday. If you're there, please stop by and introduce yourself.